Forced Adoptions
Support Service
You can access the Forced Adoptions Support Service at Wattle Place if you are:
a mother who's child was taken through forced adoption
a person removed through forced adoption
a father who's child was taken through forced adoption
a close family member of one of the above.
It was common practice in the past to remove newborn babies from mothers who "society" deemed to be unfit parents.  For instance, babies of unwed mothers were taken at birth and given to childless married couples, sometimes without consent of the mother. In other cases, unethical, dishonest, even illegal, methods were used to obtain consent under duress, deception, manipulation or coercion.
The separation experience at birth for a mother and her baby was often profoundly traumatic for both of them.
Forced adoptions affected people in many different ways. We acknowledge the trauma and continuing impacts of forced adoptions on so many of those affected.
Find out more about the history of forced adoptions.
Please see below for the list of services we provide.
Contact us
Freecall          1800 21 03 13 (from within NSW)
Phone             (02) 9687 3636 (from outside NSW)
Email               forcedadoptions@ransw.org.au
Online             Enquire online
The Forced Adoption Support Service is funded by the Australian Government Department of Social Services.
Read the
booklet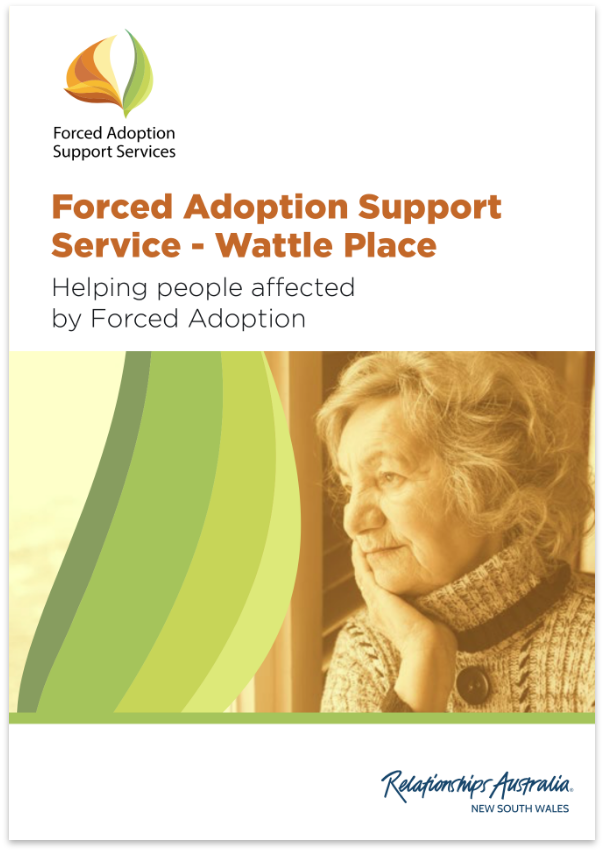 About the

booklet

We produced this booklet for people impacted by forced adoptions to understand how we can assist them, and to understand they are not alone. The booklet also summarises the past experiences and continuing impacts of forced adoptions, for service providers, family members and others to better understand.
Other support services in
NSW/ACT
Other support services
outside NSW